There is something so flattering about being invited to another persons Linky Party!
I love it!
It makes you feel like hey someone likes my project that much!
It's so nice to hear and it makes you feel all warm and fuzzy inside.... kinda makes your day!
So this week I will be linking up to two brand new Linky Parties!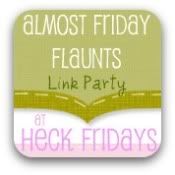 Heck Fridays is hosting their FIRST ever Linky Party THIS week! Stop over and Check it out! And thanks for inviting me for the fun!
Thrifty 101 is hosting this week too... This blog is for me! I love it! and if it has Thrifty in the name you know its been calling out for me too...
So go and have a look at all the great links that are up on these two Linky Parties and share some blog love not only with them but also with the Linkers!